Yesterday, at the ongoing Saturday Morning Seattle Guitar Circle meeting at Seattle Creative Arts Center, we stumbled onto a quick glimpse of a subset of the possible patterns that four fingers can make on one string.
Sometimes, these four note patterns are called tetrachords: 
tetrachord  / ˈtɛtrəˌkɔːd /  noun

1. In musical theory, especially of classical Greece, any of several groups of four notes in descending order, in which the first and last notes form a perfect fourth.
In 2004, a piece of structured improvisation repertoire appeared at my fingers that included a means of exploring four note patterns on one string – not technically pinned to the perfect fourth, but designed to stretch four fingers across ascending and descending tetrachord patterns with a 'rest note' (open string) between each fretted note.   
The Seattle Guitar Circle performed The Tetrachords live only once at the Sakya Monastery in 2004:
Saturday August 21st 7:30-9:30pm
Seattle Guitar Circle
performing improvised music for meditation
@Sakya Monastery
108 NW 83rd Street
Seattle, WA 98117
Eleven years later, The Tetrachords is now part II of emerging guitar exercises disguised as music. Three of these pieces are part of the Tower Trilogy that includes The Airport Exercise and Descendent. These are three of nine pieces for large guitar ensemble designed to stretch the fingers of the players and the attention of listeners.
Last night, after reflecting on the patterns that led to the original (partially improvised) piece in 2004, I made a quick video to accompany a remix of my recorded version of The Tetrachords that appears on Guitar Sketches.  The image is a picture I took in 2000 during a BTV-era visit to NYC. I stayed in the hotel at the WTC and got up early to take some pics including the source image used in this video.
Historical note, here is a quick picture of the program from the show: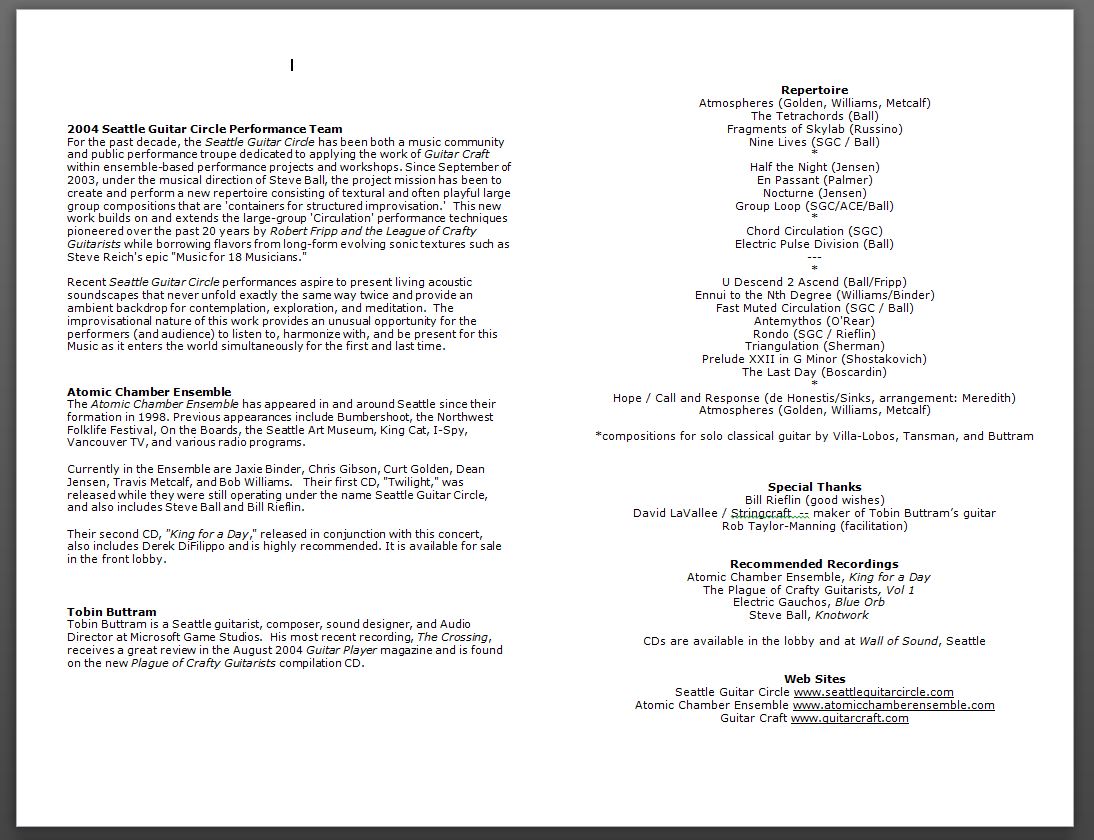 This was the last official Seattle Guitar Circle show before Tuning the Air was born.
At the time, I was interested group practice, writing, recording and performance centered around structured large group improvisation. My goal was to enable and mount performances that felt and sounded 'composed' but that were actually unfolding in the moment based upon a new shared 'repertoire' of improvisation practices designed to keep the players listening in the moment, and each performance unique.
More like a conversation between intelligent, articulate musicians than a rote, recited play. 
In 2004, after 18 years of playing intricately composed interlocking guitar music, I was ready to move into a new form and new format that was not seeking to endlessly relive, repeat or replay past patterns. 
Ironically, in 2014, the center of gravity has finally caught up with this idea as the newly reformed team in Seattle is now not only comfortable with listening, then playing – it's generally become part of what we do.
Next step: how to help it come alive in a sustainable way?
One answer: awaken the guitarist inside.
Another: gently revisit the primaries of articulation that include
rhythm (pulse, drone, syncopation)
polyrhythm (pulse division, complementary rhythm) 
vamping (two, three, four, five, six, seven note looping patterns)
melody (what do you have to say?)
harmony (what do you say to that?)
leading (take us somewhere)
following (do what I just did)
circulation (too many variations to list here)
group loops (too many variations to list here)
* * *