Check out what was going on 13 years ago.
Here it is again, in this more modern format:
Sunday January 9 ( 2000 !)
More David Byrne alive in my psyche today:
In my mind, the weather never changes
Skill overcomes unfavorable conditions
I realize today that I need a day of rest once per week from diary writing. From this week forward, Sunday will be my official 'day off' from diary keeping.
This is a good thing.
I have found the line and it's direction is known to me. Absolute trust keeps me going in the right direction. To the extent I am determined the result is the good thing.
So I say: I have adopted this and made it my own.
Cut back the weakness, reinforce what is strong.
Watch me work.
* * *
Poster and postcard mock-up design for the Whidbey show: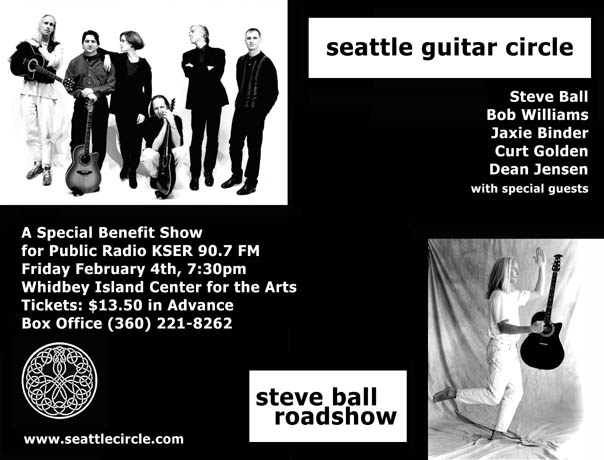 Peter, Jax, Bob, Dean, Curt: feedback? Do we need to mention the fact that it is in Langley on Whidbey Island? Need more words about what we do? Pithy press blurbs?
Is less more or is less less?
* * *
We recorded and taped that Whidbey Island show, btw. Someday, it will be interesting to digitize and share that event and repertoire.
But not tonight. It's already too tomorrow.
* * *