Firstly, the good news: lead time for getting a single onto iTunes: ~ one week.
Translation: the first weekly C3 single is now for sale on iTunes.
Let the fractions of fractions of fractions of pennies start rolling in!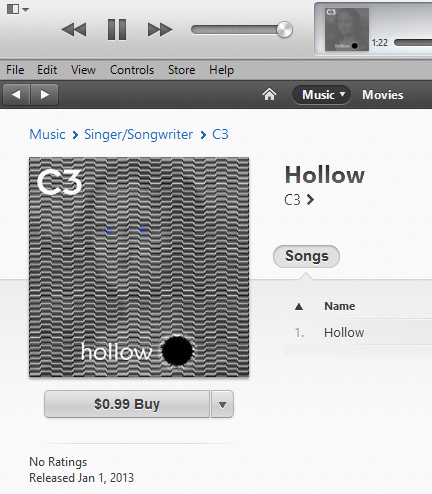 Secondly, the other good news: a few orders started pouring in today.
Now the bad news: it's 11:44pm and the two hours I just spent working on a what I'd hoped would be a quick Hollow video have ended without completion.
Why?  Vegas Pro 11 won't render video without horrid glitches, regardless of the target output format.  The preview renders like a charm. Task Manager is happy. I have a core i7 machine with 16G of RAM. 
Seriously, WTF?  Do I have to move over to my Mac Pro for this allegedly simple task?
Really?
* * *
And the other bad news: like last night, I still have some committed practicing to do. This is never easy post-midnight.  Enough blah blah blah.
Guitar calisthenics at 9am, then C3 are back on for rehearsal in the morning, working on tightening our tunes and tuning.  Goodnight.
* * *