More History in honor of Nigel's presence in the USA:  Assault on the Consensus (9.1M mp3) 
This is another Prometheus track, the high-point of the CD, IMO.  There are three sections: the gritty prog-bluesy intro in 7, the sensuous seven melodic middle, and the final anthemic, uh… anthem complete with crowd-sourced chorus that was recorded with a small crowd that was sourced from the Columbia Sound Design crew in a soundstage on the Sony/Columbia lot.    I wish we'd taken pictures of these sessions.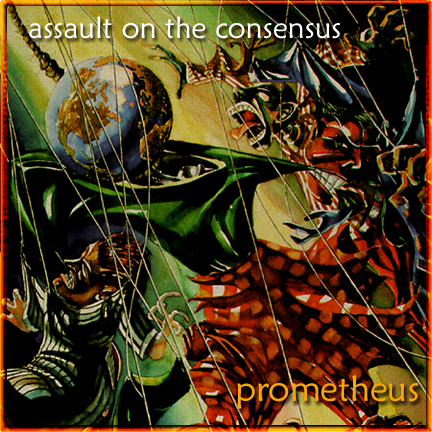 For those just tuning in, this is also from the "Prometheus" CD, written in 1992, recorded in 1993, released in 1994. For me, this piece was the highlight of a seven year collaboration with Sanford Ponder.  Prometheus was Sanford Ponder (guitars), Steve Ball (guitars, vocals), Nigel Gavin (bass), Pat Mastelotto (drums), Chris Rhyne (keyboards).
If you listen in headphones, you will experience for yourself why Sanford deserves the Oscar he won for Sound Design on Francis Ford Coppola's Dracula. And also, IMNSHO, and also why Pat Mastelotto so righteously deserved to join Sylvian Fripp and King Crimson just after this project was released. 
Have I mentioned yet that Nigel Gavin is also the most musical player I have ever played with?  He's right up there with Tony Levin, Christian de Santis, and Horacio, Martin, and Claudio from the Big Time trio.   Oh, and don't forget Paul O'Rear and Ivan Lee.
Check out Nigel's sweet and juicy bass lines around 3'39" if you wish to experience this yourself.
Assault on the Consensus
we saw it coming, a white knife rising
our eyes connected, our senses widened
should have pulled out while the door was open
should have fixed the leak when it was broken
righteous selfish ~ throwback repeat
silent protest ~ blinded senseless

pink plastic bandage on an airbrush cancer
pour from the rubber tongue: elastic answer
dissected, disconnected, empty motion
the outside amplified, the inside frozen

mailbox empty ~ airtight reason
redneck backfire ~ cordless deathsquad

talkshow slavery ~ neon headstone
science conscience ~ sequence consequence
* * *
I often feel that I've lived many different lives.    
* * *