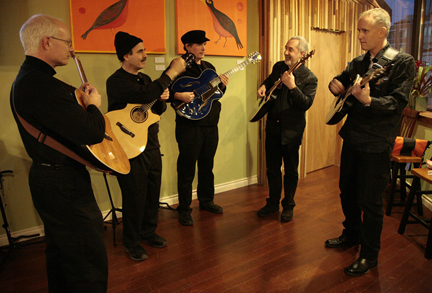 WHAT Is The Name Of This Band: playing Tougo II in celebration of Regina's painting show there. (Photos courtesy of Christina Florkowski)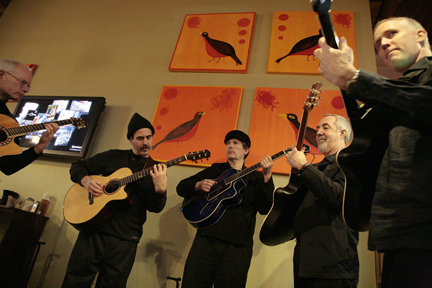 We did two shows at Tougo II recently, Regina's opening on Saturday Feb 7th, and a benefit concert on Saturday March 14th for the the Blue Nile Children's Organization. We raised $187. 
WHAT IT NOT B is Joel Palmer, Ivan Lee, David LaVallee, Paul O'Rear and SB shown here accompanying Regina's "Paintings that Sing: a collection of Brilliant Birds and Colorful Crooners" with all-improvised textures for guitar quintet. 
Regina's excellent painting show has now moved up to Tougo I on Capitol Hill and will be there through the end of April.   Six of the twenty paintings have already sold, so better move quickly if you wish to check them out.
* * *
Blast from the past, six years ago today:
Saturday March 29, 2003
This afternoon, TravisM, Derek, and I spent what little time is left for Derek in Seattle recording a new version of an important song for the instrumental CD.  With good results.

Also, email from PatM today confirming that:

a) being a rhythm buddy KC keeps one very busy
b) he will work around his current chaos and send me some tracks

There is much good will in the air.  This is one of the joys about musical relationships between musicians: the act of music is an act of collaboration.    Even if the results are not always life changing, the act itself is.   Every time. 
Derek left Seattle soon afterwards, and I don't believe I've seen him since?
I believe the song recorded that day was Secret Agent.
* * *