This weekend I spent some time with a small pile of cassette tapes from the famous 1989 League of Crafty Guitarists "Bogo Tour."    This tour featured seven players (Hernan Nunez, Ralph Gorga, Tobin Buttram, Curt Golden, Paul Richards, Hideyo Moriya, and myself) and three amazing crew members (John Sinks, Eduardo Galimany, and Betti Nunez.)  
We spent most of the fall of 1989 on a self-booked tour of the United States that peaked with a show at the Whisky-a-Go-Go in LA (with Robert Fripp, on the exact 20th anniversary of King Crimson playing at the Whiskey) followed by a show in the Peachtree Center in Atlanta three days later.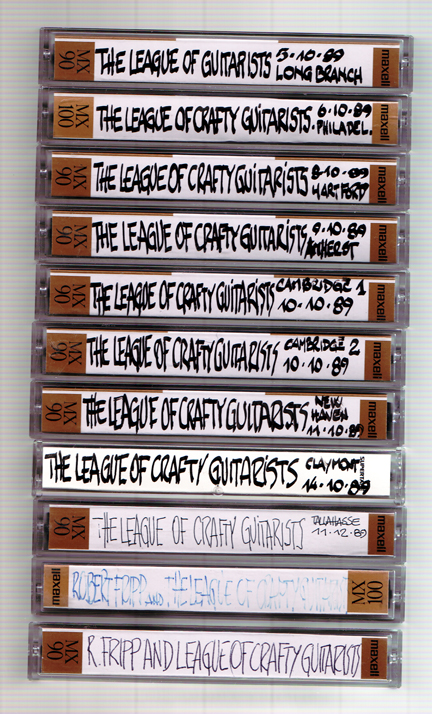 I believe both Pat Mastelotto and Sanford Ponder were at that show at the Whiskey on December 5th, 1989.    
Mike Keneally may have been there as well – he was a bit of a LCG groupie in those days.  Mike came to see us a few times in San Diego, and we went to see him busking with his brother on a sidewalk in San Diego.
Of course, there are hundreds of mind numbing road stories from those days, some worth remembering here or perhaps via other archiving projects, but perhaps even more relevant, this music may soon speak for itself.  Some of these tapes may soon be digitized and perhaps shared via BootlegTV re-incarnated: DGMLive. 
Were you at any of the shows from the Fall 1989 League of Crafty Guitarists "Bogo Tour" ?  If so, love to hear from you: what did you think of the show?
One more note on these tapes: I also believe the perhaps-phenomenal October 14th show in the Claymont Octagon was the primary event that inspired Robert to commit to a three year global LCG tour?   That 'three year tour' was eventually cut short after the Europe Tour in the Spring of 1991 due to an unfortunate financial and ethical meltdown at EG Records.  
* * *
Where has Steve been for the past few months?  In addition to breakfast with brother Pablito Mandel this morning, I've been focusing on three important things this fall:  Sofie, Regina, and shipping Windows 7.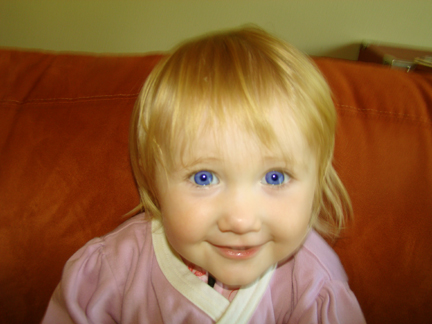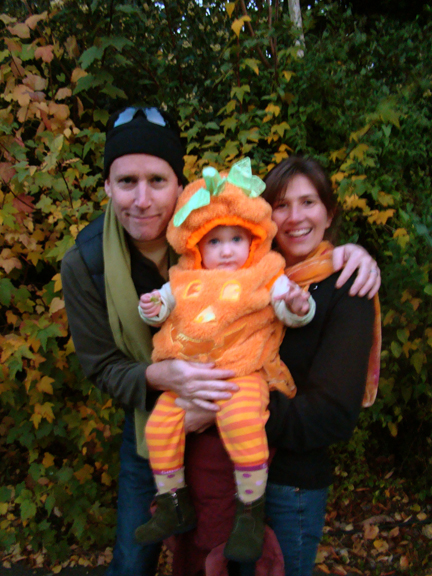 Beautiful fall harvest: two squirrely farmers and a plump pumpkin.
* * *
If that were not enough, there has been ongoing rehearsals, writing, and performances with the Fall 2008 lineup of SB Roadshow as well as a new incarnation of Seattle Guitar Circle focusing on improvisation exercises.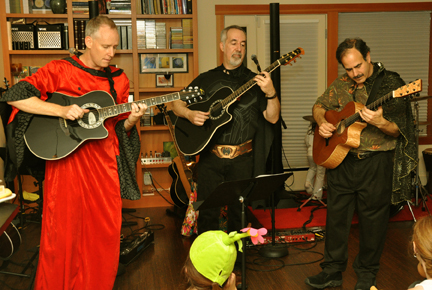 Scary Boys Roadshow: 2008 Halloween Party at the Opal Creative Space: Paul O'Rear and Ivan Lee ripping it up.  We have an upcoming show at the P&G Speakeasy on Saturday November 29th, 7-9pm.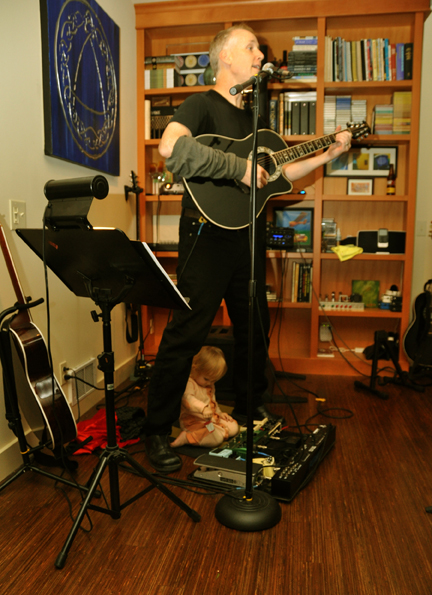 Sofie accompanying Daddy on Pelota Pedal Board: her first public performance.
David Geller managed to capture some video of Sofie in action on the Patented Pelota Pedal Board at the last House Concert. 
During the Thanksgiving and Christmas breaks, I'll working on getting some more recent video content online while continuing to document some more of the exciting activities of the past few months, such as my Keynote Performance at Project BBQ, the Fripp & Fripp events in Seattle, and ongoing local implications of the financial meltdown.
* * *