Recap: early morning (baby) sitting with Sofie and Nella Mae, returning a favor for Tim and Jenn who enabled us to see our first movie in over a year, The Dark Knight last weekend at Cinerama. Payback.
* * *
Evening: final decisions on song order and CD3 cover art, also now nearing completion: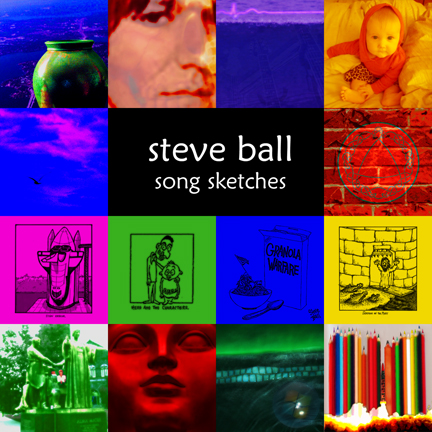 The hard part about completing a process is the decisions that reduce potential. The pool of 45 songs that will make up the Sketch Box are being drawn from about 75 contenders. And even within these, what needs enhancement or editing is interesting, but at this point, what to cut is the more interesting question.
Now: running order and draft Collage Covers are complete for all three CDs, and all that remains is transitions, final listening, mastering, and the rest of the artwork. All. That is a lot of All.
This is the fun part: spent some time this evening mixing a Fripp Soundscape and a subtle JGB quote into the beginning of Undertone.
In the process, I re-listened to both JGB Future Communities tapes. Some serious gems in there, and this content is still 100% relevant almost exactly 35 years later.
* * *