Where did this month go? Work is intense and challenging, as always. Play has also recently been intense.
Regina is out at a dance class, so I have some time this evening for some catching up, working backwards:
Tomorrow morning, Paul Reed Smith is coming to visit at work. I'm looking forward to meeting the guy who built my favorite guitar: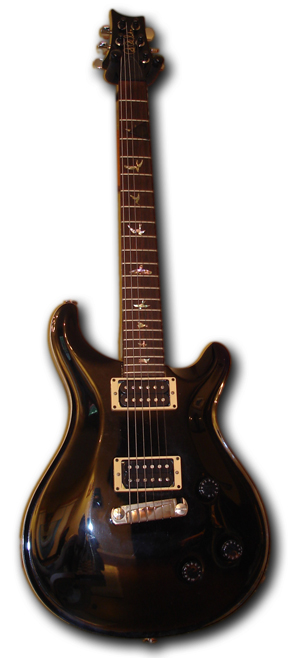 * * *
I just got off the phone with my old pal Juanita Debra Kahan who was wandering the streets of NYC with her (now 21 year old) daughter, Lili -- and my old pal (and guitar teacher) Tony Geballe. They were out in the streets checking out the blue moon, and decided to call to say 'hi.'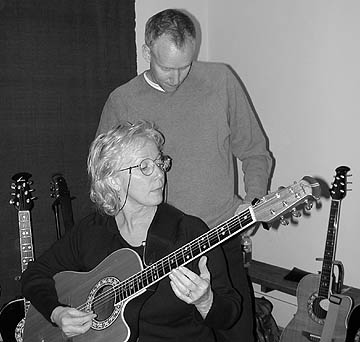 Stevie Ray Juan and Juanita, circa 2001
* * *
Other miscellaneous updates:
I also had a nice WM chat this afternoon with old Greenthumb bandmate, Horacio Pozzo -- more catching up.
I also (finally) replied to a mail from Pablo Mandel from over three weeks ago -- but it just bounced? Hmmm.... Hi Pablo.
Mail a few days ago from old League and Prometheus bandmate, Nigel Gavin who may be coming to Seattle for a visit in August. I'm hoping we can arrange some sort of reunion show in Seattle... we've recently brought the song 'Curtains' back to life that was born way back in West Virginia with Nigel in the early nineties.
Regina and I traveled to Atlanta last weekend for a much needed visit to my Mom and Dad's backyard pool! It was also sort of a summer birthday celebration -- my Dad turns 70 in July -- and I'm not that far behind!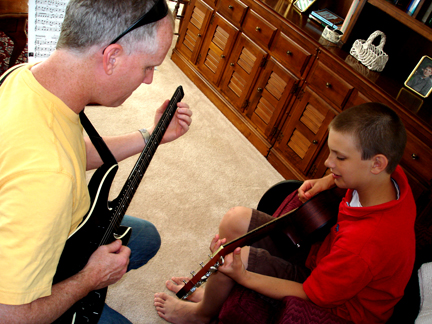 Nephew Joey gets his first lesson
* * *
Last week, the new SB Roadshow line-up did a photo-shoot with Regina and David LaVallee. Over one-hundred nice twilight photos came out of the shoot, and I'll share a few of them here over the next few weeks to keep these posts visually more interesting than this standard gray Verdana.
* * *
I recently completely re-orged my studio, and it's finally functional again. I "broke it in" with 'The Angel in the House' last week, but I'm still tweaking a few ergonomic issues. I also do quite a bit of Sound Design at work these days, but my office at work is jam-packed so much of the heavy lifting happens at home.
I recently made contact after a long communications drought with Duncan Weller and his publisher at Simply Read Books. I know that neither are standing still, but I hope to revive some projects with them later this year.
I also have at least 15 phone messages to catch up on -- I had a very useful discussion earlier this week about how email and online culture has pushed me out of 'phone mode.' I prefer face to face conversations to phone calls.
I also prefer the asynchronous properties of email -- and even there, I still mega-suck at timely responses. Yes, I can blame the insane volume of email I receive, and my always-ultra-booked foreground schedule... but in the end, there is really no excuse for months of radio silence.
How hard is it really to say "hi, thinking of you?"
Not that hard... but it is much harder when it takes 10-15 minutes beyond the 'hi..." for the inevitable catching-up that follows.
* * *
More to come as I have an active commitment to write here daily during the month of June. Here we go.
* * *