Tonight: the new line-up is back in action:
Paul O'Rear (bass and vocals)
Ivan Lee (guitars and vocals)
Dan Moore (drums and vocals)
SB (acoustic guitars and vocals)

We've invited waaaay too many peeps, but given our recent rehearsals (and repertoire additions) this one is going to be fun. For me, I'm celebrating the (almost) completion of my five-year Windows Vista project(s) while formally ushering in a new phase of musical life.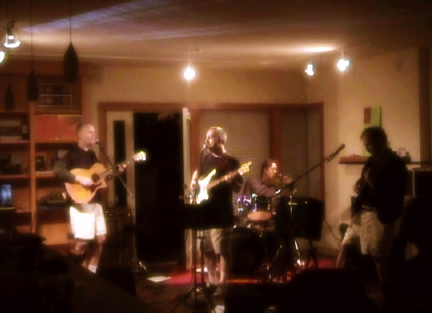 Hope you can make it.
* * *
Wow - a large and warm turnout... and a strong show, all around.
Set List from the Show
Running up that Hill
Hollow
Lay My Love
Walking in your Footsteps
Kneeling Down
I am (not?) in Love
Waiting Man
Solsbury Hill
Ballistic Blue
Needle and Thread
I Want to Live Here
Night Wall
Your Move / All Good People
Dark
Naïve Melody
She's Not Coming Back
* * *