Afternoon: played a private party with Paul and Lee, including the Yes medley as final encore.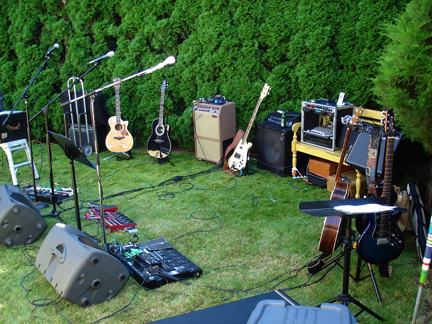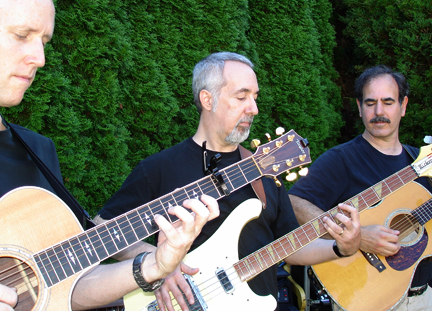 * * *
Evening: self-hosting the latest take-home copy of Windows Vista ultimate on my Media Center machine. A fairly quick process only made slow by lack of wireless drivers for both my Hawking and Linksys USB wireless adaptors. Went to the web on another machine for both - the Hawking would not install, and the Linksys finally worked.
Things are finally coming together.
* * *
This is the 'busy season' - the time when everyone we know (ourselves included) host weekend BBQs, take vacations, juggle multiple events, celebrations, and massive deadlines. For me, the stress level is set to 'stun' at least through the end of September, but spirits are generally adaptive and resilient.
That said, among others, I own communications back to Duncan Weller, some folks at Groove Networks, and a number of other folks who may not care that we're working around the clock to keep RC1 on schedule. Reviews are beginning to pour in, however. And many look pretty good.
* * *
David Byrne has been writing one of the best music-oriented blogs I've seen, and this post resonates for me.
This idea reinforces the primary reason I believe improvisation and flexible arrangements are necessary for my own live shows.
"I wrote about this for CBGB and OMFUG: Thirty Years from the Home of Underground Rock — here's an excerpt:

In my opinion it is the venue that makes the music scene happen just as much as the creativity of the musicians. There is continually and forever a pool of talent, energy, and expression waiting to be tapped—it simply needs the right place in which to express itself. […]

The space in which music is to be heard can determine what kind of music the artists create. The physical shape, acoustics, floor plan, and layout of a venue can contribute to the sound. For example, The Kitchen, which was an art-music-performance-loft in SoHo, was austere, reverberant, and echoey. The resultant music, from Phil Glass to Rys Chatham, was pretty spacey and trancelike. Jazz clubs tend to be extremely intimate. The music that results is one of details and an intricate, narrow focus of expression. Arena rock is written to be performed in an arena—it sounds and looks ridiculous in an intimate club. Symphony halls work best for classical music written during a particular era, opera halls…you get the idea. It might seem dispiriting to believe that the brick and mortar determines what form of music a creative soul pours out, but I think there is an element of truth here. Songs and performances are, one hopes, absolutely heartfelt, passionate, and true — but we both consciously and unconsciously guide our feelings, passions, and ineffable creative urges to make that which is appropriate work in the given situation.

The same process of the venue changing the music also happened in country music, especially honky-tonk. When this music began to be played in bars, to drunks and dancers alike, it needed to be loud and forceful — and the writing and instrumentation evolved to fulfill that need. Electric guitars replaced acoustic ones, drum kits were added, and rhythms got emphasized.

So how is this process happening now? In arena rock, for example, the songs are intuitively written that will song good booming out to a sea of fists in a sports arena. Some of us have seen bands used to playing arenas doing their "intimate" club dates — and often they can't adjust. They retain their stadium gestures and grandiose musical stylings and it all just seems completely over the top and out of place.

Is music being written and recorded expressly to cater to the iPod wearer? Is music being written for an audience of one? Private music, intimate, personal — full of details and space?

Is hip hop made to sound the way it does so that it sounds good on a giant booming car audio system?
And what of the dance music of today? DJs play for dancers — their back and forth relationships and interplay with their dancing tranced out audience might be similar to that of the early jazz musicians. They can sense what the audience wants next, and they search through their box of vinyl in hopes of providing it by the next segue. Their sets, therefore, are shaped as much by their audience tastes and desires as by their own.

The art is a balancing act between merely giving people what they want and surprising them with what they didn't even know they wanted because they haven't heard it yet.

Usually the process is a little slower than it is with DJs — most acts can't come up with a whole new direction for their set determined by how an audience is reacting. But the next show's set, the next day, might reflect the experience — more intimate tunes if it's a small venue, rousing favorites if it's a big space. And eventually, when it's time to write more songs, they'll be written with the past performance experiences in mind — well, for those of us who actually perform — and a kind of evolution will occur."
* * *