Evening Work: mixing a version of Electric Pulse Division 11.1M mp3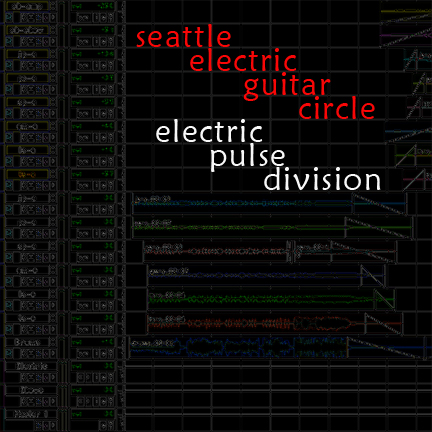 This version features Paul O'Rear, Lee Silberkleit, Joel Palmer, Sandra Prow, Greg Meredith, Taylor Sherman, and myself on electric guitars and ebows, plus special guest Larry Swanson on percussion. What you hear is live, unedited, and as raw as it was played with the exception of one deleted chord and one deleted ebow noise.
My mission at the time was to develop and present all new, improvised, textural, contemporary chamber music for a large electric guitar ensemble. This is a mission I will return to again one day.
* * *
Here are some notes from an email sent a few weeks before this recording was made (on June 18th, 2004 at the Premier Soundworks recording studio in Kirkland) and just before we debuted this piece at Folklife 2004:
From: Steve Ball (home)
Sent: Tuesday, May 18, 2004 8:00 AM
To: Greg Meredith; Joel Palmer; Lee Silberkleit; Paul O'Rear; Taylor Sherman; Sandra Prow
Subject: Themes for our SEGC Group Work

Reminder of the five 'themes' we are working to incorporate into our group improvisations:

1. Dynamics - we generally play from volume setting 4-6. Let's exaggerate our sense of dynamics and use the full 0-10 range of volume we can produce from our guitars.

2. Texture - we work together to create sonic textures where no one part stands out as 'dominant' (except in sections where one or more parts is designed to stand out); contribute carefully chosen patterns in simple rhythms that 'complement' the other rhythms in the group to create a bed of dancing, polyrhythmic, woven sonic wallpaper; be aware of the primary 'textures' in our tool box: drones, vamps, hooks; do not be afraid of repetition - sand on a beach is not boring; a field of corn is not boring; fabric is not boring. Not listening to each other is boring. Monologues are boring.

3. Consonance - strive to be 'consonant' with the other parts that are currently unfolding; change keys and modes together, and be aware of the 'status' (major, minor, dim) of 2nds, 3rds, 4ths, 5ths, 6ths, and 7ths in the currently playing 'mode' - listen for and respond to changes in these modes; also, be very careful about 'imposing' changes on the current if it is already heading in a particular direction; if you feel a need to 'change modes' begin by moving to 'common ground' (roots, fifths) where the major/minor-ness is not fixed.

4. Tone - incorporate a full range of tones in the notes you chose to play; thumbs and harmonics are only the beginning; use your pick and your right and left hands as if you were a sculptor, finding new shapes and colors in the collective sounds we produce.

5. Storytelling - the combinations of dynamics, texture, consonance, tone work together to create 'phrases' that tell a story; music is a language, and as a group, we have a story to tell. Engage in a conversation with each other. Listen for the characters in the current piece, and work to clearly articulate and amplify the themes that emerge. Respond to and clarify what is said. Our audience is not interested in our actions -- they are only interested in our interactions.

* * *

It is a pleasure working with you all - thank you for your contributions and willingness to venture into uncharted territory.

* * *
And one more mail regarding rehearsal logistics:
From: Steve Ball
Sent: Friday, May 21, 2004 11:48 PM
To: Paul O'Rear; Greg Meredith; Joel Palmer; Taylor Sherman; Lee Silberkleit; Sandra Prow;
Subject: RE: Seattle Electric Guitar Circle - follow-up

Some additional notes for the next few rehearsals:

1. please consider every moment of our time together part of our 'rehearsal' - let us be present, careful, and considerate at all times during arrival, setup, preparation, rehearsal, breaks, tear down, and load-out. Practically speaking, this is a specific request that we explicitly work together to conserve our energy, minimize "leaks," wanking, gossip, and avoid the unnecessary chatting, small talk, noise making, and general casual 'clutter' that sometimes consumes our normal waking lives. This is not meant to be a clamp down on fun, joy, and spontaneity in exchange for solemness, depression, and Guitar Craft face. However, there is much we can do to 'tighten' our ship, and focus on the primary task at hand.

2. let's consider every moment of our journey to and from Folklife as part of the performance - our rehearsals during this next week are an opportunity to practice the end-to-end process from arrival to departure of our 'performance.' I'd like to work to the standard where we arrive with minimal fuss and muss, setup quickly, quietly, plug-in, and GO. Practically speaking, this means finding ways to move, unload, and setup your gear very quickly. This is also an explicit request that you each develop the ability to tune very quickly and quietly, to be familiar enough with your gear that you can setup without a sound check, turn up the knobs and know how loud you will be without playing a single "test" sound or chord. If you absolutely must test your electric sound to make sure it is working, let's consider a consistent approach: play one open D string gently, once and let it ring. Adjust your knobs, dampen the string, and be done. I would be thrilled to hear no Thrak chords, no wanking or noodling, no 'sound exploration', and no unnecessary sound until the very moment the first note of our first piece is played. The time and place for practice, exploration, wanking, sound exploration is at home. In rehearsal and performance, let us assume the virtue and strive for mastery in each small part of how and what we present to each other and our guests.

* * *

I know these descriptions may sound rigorous, even extreme -- however, a major part of our performance value is how we do what we do, and I wish to pay close attention and study every detail from the moment we arrive to the moment we depart.

Thanks for taking the time and care to work on these details!
Best wishes,

-Steve
Interesting to hear this music unfold after spending much of the past year working on literally thousands of short 3-6 second sound-songs.
I'll begin sharing some of those here soon.
* * *