Update: after three hours of shooting yesterday at home, on Boeing field, and at the Museum of Flight, BTV correspondant, David LaVallee now has raw material necessary to create both an instructional and performance video of The Airport Exercise. And I managed to get in ~ 3 hours of balanced practice in the process.
Fingers feel great.
* * *
Early Afternoon Reading: The Rise of the Creative Class. Highly recommended reading for anyone struggling with time management issues.
"Time-use scholars agree on one overwhelming fact about today's world. It is not so much that we are 'overworked,' but that we suffer from a constant feeling of being rushed – of generally not having enough time in our lives.



40 percent of Americans believe that lack of time is a bigger problem for them than a lack of money. Robinson and Godbey describe this as the 'time famine.' …

Creative work is time-consuming and stressful, and more of us are feeling it. But the long workday is not the only thing making us feel short of time. …

Stanford's Paul Romer makes the intriguing argument that even when we are not actually pressed for time, we may perceive that we are because our time is literally worth more than it used to be. …

This ought to make us feel pretty good about the returns we're getting on our time. But our minds don't work that way. Instead, we assign an ever-increasing cost to every minute we spend outside work – and thus worry about the minutes slipping away."
This book is filled with insights about the massive, long-tail transformation that is happening around the world as people shift from consumers to the 'creative class.' It also resonates strongly given my own neuroses, mechanisms, and trade-offs in juggling priorities between work, play, family, and friends.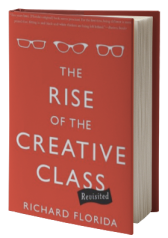 * * *