Evening Work: Night Wall - page 13 (2.0M mp3).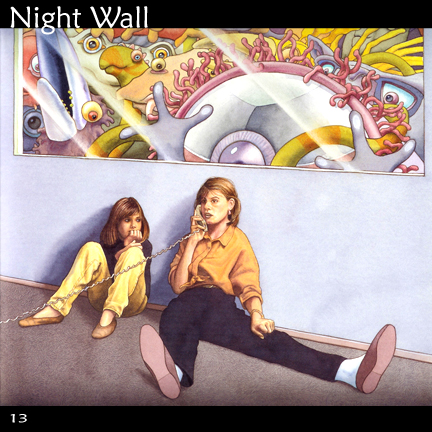 "Julie quickly locked all the doors and windows. Then she called the contractor and said firmly, 'The wall doesn't work. We've got monsters in our backyard. You've got to take the wall down – tonight!' There was a pause. 'Okay, then first thing in the morning. I want that wall down!'
Sarah stayed close to Julie while the creatures surrounded the cabin.
'It looks like a circus out there,' said Sarah, taking a peek out the window. 'Do you think they're real?'
'Of course they're real.' Julie answered. 'You see them, don't you?' "
* * *
MS Company Meeeing today, back at Safeco Field. Today was a sort of a milestone for me as well as the beginning of a countdown to this time next year when the world will be surprised by what is in store in the coming line of life-changing products. A rather inspiring day, all in all. On a good day, it really is amazing what is possible if you align the hearts and minds of thousands of hyper-intelligent people behind one vision.
Also, a trip to the allergist in the late afternoon reveals, as suspected, I'm allergic to a few tree pollens, but NOT allergic to dogs, dust mites, or feathers.
* * *
Weekend ahead: catching up on correspondences, including Duncan and Bill, among many others. And preparation for a quick trip to visit Digidesign on Tuesday.
* * *