From the Archive: Memorial Day Weekend, digging through some memories, and stumbled upon this in the 'songs that deserve to be heard' closet -- this one from the "Prometheus" CD, written in 1992, recorded in 1993, released in 1994. For me, this piece was the highlight of a seven year collaboration with Sanford Ponder. Assault on the Consensus (9.1M mp3).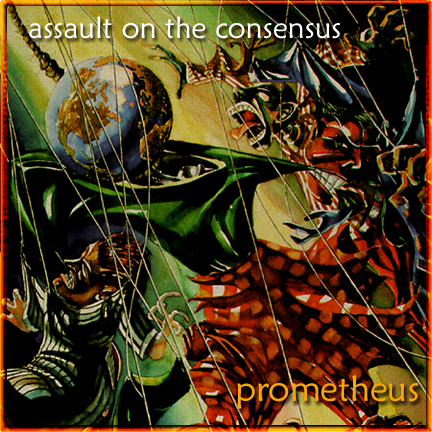 Musicians: Sanford Ponder (guitars), Steve Ball (guitars, vocals), Nigel Gavin (bass), Pat Mastelotto (drums), Chris Rhyne (keyboards).
If you listen in headphones, you will experience for yourself why Sanford deserves the Oscar he won for Sound Design on FF Coppola's Dracula. And also, IMNSHO, why Pat Mastelotto so righteously deserved to join Sylvian Fripp and King Crimson just after this project was released.
assault on the consensus

we saw it coming, a white knife rising
our eyes connected, our senses widened
should have pulled out while the door was open
should have fixed the leak when it was broken

righteous selfish
throwback repeat
silent protest
blinded senseless

pink plastic bandage on an airbrush cancer
pour from the rubber tongue, elastic answer
dissected, disconnected, empty motion
the outside amplified, the inside frozen

mailbox empty
airtight reason
redneck backfire
cordless deathsquad

We saw it coming:

talkshow slavery
neon headstone
science conscience
sequence consequence
* * *
Also in the works: acoustic versions of this and "Enough is Enough" for the Song Sketches CD.
* * *
Last night: invitation to an "inspiration" party from TG at Trina's place which included a lively version TW's new song "Letters" and Brandon's 'ghost recordings' an old school in the U District (where the Seattle Guitar Circle once performed.) Inspiring conversation about the nature of ghosts followed. Note to self: need to get TW into the House Concert calendar for my upcoming June, July, or August house concerts. Second note to self: time to get a new Roadshow lineup off the ground. Some interesting ideas brewing given TM's unavailability for the remainder of 2005.
Later this evening: Bill Frisell at Jazz Alley with Regina and the usual suspects.
* * *