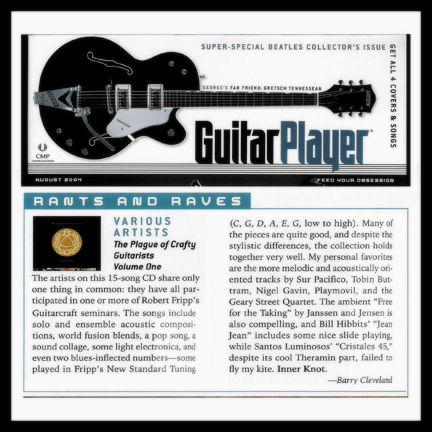 My dear friend, and South American brother, Marcos Ribas was looking for a copy of the Plague of Crafty Guitarists CD review from last August's Guitar Player magazine. Travis Hartnett to the rescue! Thanks Travis for scanning and sending this through. Hope to get Volume II cooking later this year w/ focus on more traditional 'Crafty' material.
Tobin's 'the Crossing' is still one of my favorite compositions ever, and alone makes this CD worth owning.
* * *
A rough afternoon made for a rather emotional evening, esp. during "I am (not?)..." Nonetheless, the House Concert last night was a smash -- special thanks to Captain Gravel for a great show. Just the right number turned up to fill my little living room to capacity. Great to finally connect TreyG and RichardL in the same room. Roadshow lineup with Curt, Paul, and Travis was a blast. Four voices = bliss. Great to have Curt back in the mix. Heard some feedback that PaulO was really rocking on bass!
I saw some cameras flashing during the evening -- photos will show up here if BTV crew in the audience send me some photos. Also nice that PatrickN could make it in from Whidbey for the show; sounds like we may be doing a show somewhere out on Whidbey again this summer via a friend of Patrick's.
I took some allergy medicine in the late afternoon that wacked my brain out a bit -- I was incredibly thirsty all evening, slamming water during the show, and a bit spacey. Also, forgot to pass the hat, so the poor musicians left rich in experience only.
Ideas brewing for next few House Concerts: TobinB, TravisH, ACE, Roadshow w/ JarodK.
* * *
Amost forgot, PaulO gave me a copy of a bootleg he found somewhere online: Robert Fripp and the League of Crafty Guitarists, live in Central Park, Aug 6th, 1990. That was one of the largest shows we ever played. Curt was, for some reason, in the audience rather than on stage for that show. Karen and I had just gotten married at the mansion at Claymont exactly one week earlier. I listened and was flooded with memories of those days when my life and energies were fully engaged in mainstream GC activities 24/7. I believe we had just finished recording "Show of Hands" at the Manhattan Center in NYC? The show sounds remarkably fresh -- that was a powerful lineup and a time of much innovation and pretty good 'groupness.' It was also the beginning of the end of the 'Ralph' years and just before the 'Nigel period' kicked in and took us to Europe for our final tours of the first seven years.
Set list from this show includes:
1. Askesis
2. Wall Street
3. Beeline! (early Paul + Hidi piece...!)
4. Intergalactic Boogie Express (named via a TreyG dream!)
5. Patricia - Here Comes My Sweetie
6. Descending Circulation / Burning Siesta (Paul, Herni, Ralph, Steve)
7. Spasm For Juanita (Spazzo Ray + Stevie Ray Juan!)
8. Lark's Thrak
9. Patricia – This Yes (Dooten Do Dooten - thanks Sandra!)
10. The Breathing Field
11. Bach Circulation
12. An Easy Way (Bert!)
13. Not Digitalis.. ? (GuidoE and DavidP, perhaps a piece by Guido's friend Stone?)
14. The Driving Force (the best Crafty piece ever, 130ish BPM!)
15. Patricia - Listen
16. Hard Times (Ralph, Herni, Paul, Steve)
17. Scaling the Whales (Hidi, Paul, Tobin, Steve!)
18. Jaqueres (Herni, Ralph, Stevie, RF super-fast smash symetrical ending!)
19. Groove Penetration (Tobin!)
20. Patricia - Stop These Bright Colors
21. Circulation
22. Fireplace
23. Asturias
24. Fragments of Skylab (Pietro!)
25. Flying Home (Curt!)
26. Patricia - Will Be Done (title?)
27. Are You Able (to Rock and Roll)? -- (Ralph/Paul/Herni/Steve - chord circulation!)
28. Eye Of The Needle
29. Final Circulation
I need help filling in the names of the pieces that I can't remember... perhaps TobinB, CurtG, HerniN, or PaulR can fill in some of the missing titles? I have set lists and tour diaries I can consult, but that would take some serious archeology in the giant files I've been carrying around since my 'Guitar Craft Services' days.
Update from Paul, Curt, and Tobin! The on stage team was: RF, HideyoM, PaulR, SteveB, RalphG, HerniN, TobinB, SteveJ, BertL, GuidoE, DavidP and PatriciaL. Eddie "never don't wear a belt" G was on sound. Road team was JohnS , KarenT, BettinaN, JackieP, BillVB, YvonneT, PaulK.
* * *
Listening as I type: "Good Dog, Happy Man" by Bill Frisell, recommended by TravisM. Now inspired, so stop listening, and moving onto a new Music Sketch of the day.

* * *