Recap: Last week, my Dad's Mom and Sofie Regina Lillian Ball's great grandma Lillian passed away, so we all got on a plane for an unexpected family reunion.
Here is Grandma Lillian in 1936: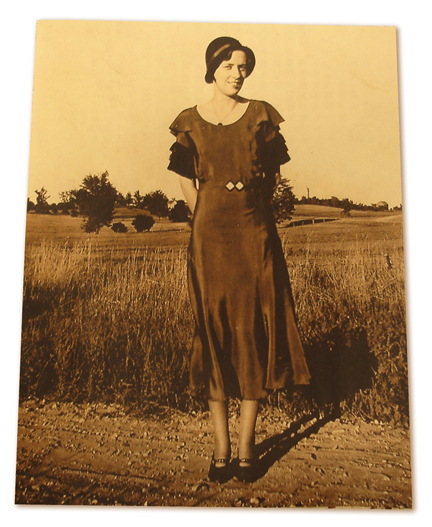 God Bless Grandma Lillian, 1913-2008
From the official obituary:
Mrs. Lillian J. (Ball) Lovell, age 94 years of Newaygo, passed away on Thursday morning, March 13, 2008 at Transitional Health Services of Fremont. She was born on May 25, 1913, and raised in the Byron Center, Michigan area.

After graduation from Byron Center High School, she married Harold James Ball and was a bookkeeper in the meat and grocery business for many years. She began working at Geukes Meat Market and later in the family business, Harold's IGA Store in Newaygo, Michigan, after they moved with their four children in 1949. She was preceded in death by Harold Ball and Lee Lovell.

Lillian was a member of Newaygo United Methodist Church, taught Sunday School Youth classes and played piano for the church services. She served as a Girl Scout Leader and also held terms on the Newaygo Library Board and served on the local election board.

As a young homemaker, Lillian had a large garden, loved to sew, crochet, and had a green thumb for flowering plants.

Survivors include her children, Donna (Warren) Isberg of Grand Rapids, MI., Betty (Jerry) Burnside of Fremont, MI., Harold E. (Fran) Ball of Duluth, GA., and Susan Bull of Fremont, MI. Her grandchildren include Merrie Isberg, Jennifer (Mark) Schropp, Diane Burnside, Julie Lupa, Kathryn Ball, Steve (Regina) Ball, Kimberly (Robert) Ruppel, John K. (Deirdre) Bull, and Anthony (Visda) Bull. She is also survived by many great grandchildren. The Funeral Service will be held at 2:00 PM on Sunday, March 16, 2008 at the Kroeze-Wolffis Funeral Home in Fremont with Pastor Patricia Bromberek officiating. Interment will be in Newaygo Cemetery. Visitation will be from 1-2 PM on Sunday.

In lieu of flowers, memorial contributions may be made to Newaygo United Methodist Church, 101 State Street, Newaygo, Michigan 49337.
Of course, many many photos were taken. A few highlights: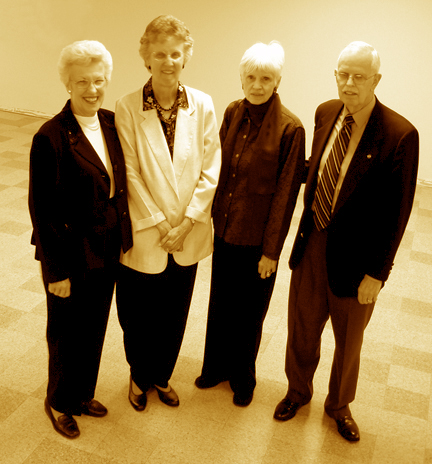 Lillian's Children: Susan, Betty, Donna, and Harold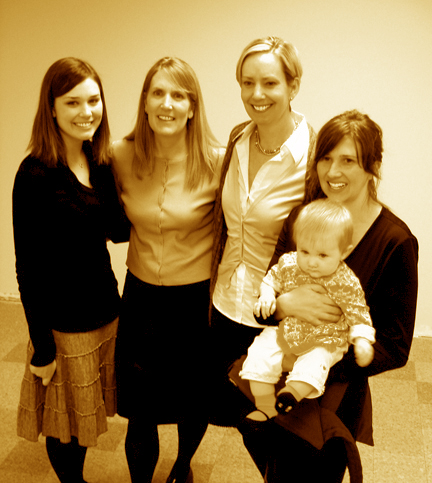 Two Generations of Grandchildren: Andrea, Julie, Katie, Regina, and Sofie
* * *
A page from one of the many family photo albums we studied just after the funeral: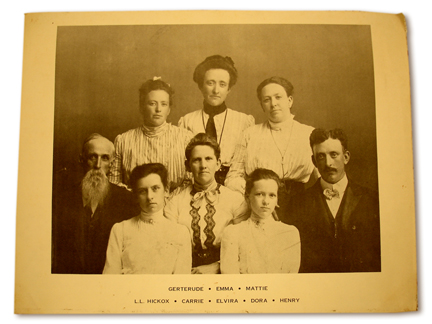 * * *
We're home now, recovering gently from the trip. It was great to see everyone and this side of the family has been overdue for a family reunion.
After this whirlwind trip, I'm thinking I should grow a beard like my great great Uncle LL Hickox. My cousin Tony already has a significant head-start: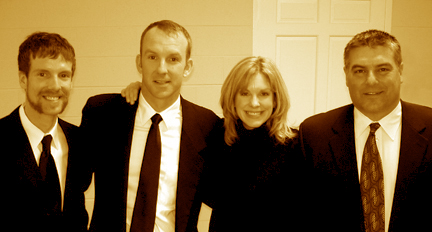 Tony, John, Kim, and Bob
* * *