Recap: Guitar Calisthenics and Sitting for four, followed by inspiring coffee conversations at Stumptown. Ran into Zune pal Thamer and introduced him to MS Photosynth pal, David Lavallee. Then, acoustic rehearsal for three.
Lately, I'm finding Chord Circulations to be the most useful part of our group calisthenics work.
What is a 'Chord Circulation?'
One person begins playing a pulsating single note in a pre-determined meter, say 8 beats per bar. After eight beats, the second person chooses a note to harmonize with the first while the first person continues playing their note. After eight more beats of player 1 and 2 in the circle playing their notes in harmony, the third player joins in choosing a third note that harmonizes with the first two. After eight more beats of the existing improvised triad, the fourth person plays a fourth note.
At this point, there is a pulsing four note chord being played that could not have been predicted or written by any individual in the group -- the group has literally chosen what chord is being played.
Then, the first person chooses a new note -- and the chord, by definition, changes. After eight beats, the second person changes their new note,.. and with each note change, every X beats, a new chord is created. Every eight beats (or what ever the meter chosen is) the chord changes, and a group-improvised chord progression unfolds, one note at a time.
What I find so useful is that to do this well -- that is, to make it sound good --each person must be able to hear the specific notes, intervals, and 'functions' of the notes that each of the other players is playing, and then intentionally move to a new note that is consonant with the other notes being played.
This involves a kind of three dimensional listening: a) what note am I playing and what is its function in the chord? b) what notes are the others around me playing and what are their functions? c) what note should I play next that will harmonize with the other notes being played?
You have to know both where you are and where to go to keep the current and the next chord in sequence 'on track' -- whatever that track may be as it unfolds.
This morning, some remarkable chord sequences flew by during our Chord Circulation.
Variations for experts:
melodic: play a brief thematic melody when changing notes
dynamic: change the timbre + dynamics of the notes being played together (sustained, muted, thumbs, near the bridge, very soft, very loud, etc.)
metered: change the meter on a set schedule (ex. descend from bars of 8 to 7 to 6 to 5... each time you make it around the circle - head back to 8 after hitting one.)
* * *
Evening work: a) delivered Salsa Chicken and rice to some friends who have a three week old baby girl, b) completed the new blue painting, c) experiments with video creation tools.
Pre-sleep reflection: considering music collaboration project for Duncan's The Boy from the Sun. We're going to invite Jon Anderson to contribute to the music. With a busy year of Yes reunions, timing may not be perfect. But we're going to make the invitation.
Decision: I've invited Tony Levin to contribute a bass track to the Airport Exercise for the upcoming Sketch Box release.
* * *
Photo of the Day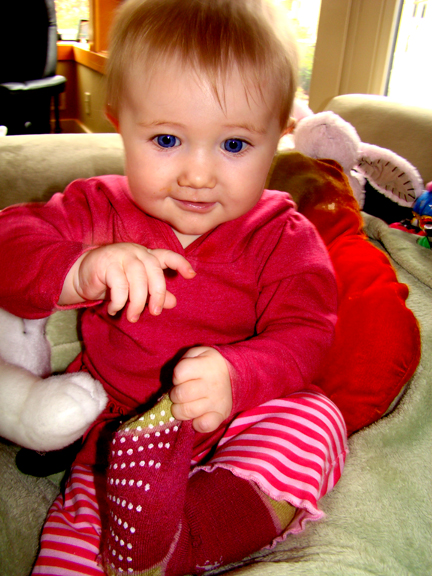 Expressive Sofie: get this sock off my foot NOW!
* * *