Landfill and Skyfill were not the only new paintings on the wall for our recent House Concert. These are Regina's new Crows of Desperation now on the large wall of the Opal Creative Space.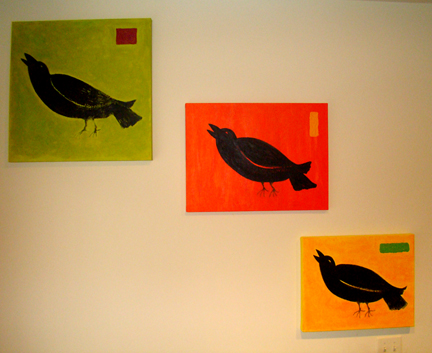 * * *
Recap: Almost through my first week back at work. As usual, it's been an intense week of meetings, discussions, and ongoing group work where the constant challenge is to articulate, share, and serve a common aim.
That, and continuous support + pressure to learn, grow, and adapt.
* * *
Looking Forward: Lee has booked an all acoustic show for the SBRS trio (Ivan Lee, Paul O'Rear, and myself) at the intimate P&G Speakeasy in Duvall for Friday night, that is, tomorrow, Feb 8th, 2008. Music begins at 7pm.
Come on out and see the show!
Weekend Forecast: more progress on the Sketch Box, some dancing and a massage for Regina -- and the Washington State Caucuses.
* * *